Imagine launching your brand with total confidence.
Frustrated that your website looks outdated and unprofessional?
Pulling your hair out, trying to fix tech issues yet again?
Sick of feeling embarrassed when someone asks to see your outdated website?
Frustrated that you have no idea how to look professional online?
Feeling anxious that your website isn't generating the sales or inquiries you thought it would?
Have a beautiful website that perfectly matches your style and brand?
Feel calm, knowing you have someone taking care of the tech?
Be proud to show the world your shiny new website?
Look professional across all of your social media, website, and marketing?
Increase sales and inquiries with a website that actually works for your business?
Your website & brand should be working

for

you
Together, we'll create a website that intentionally guides your ideal client to do business with you. And a brand that your ideal audience connects with and raves about.
Custom Wix Website Design
Custom Layout & Design

Mobile Design

Email Opt-In + Welcome Email

Social Media Connections

Coming Soon Landing Page

Basic SEO
Training Video Library

Promotional Images to Share

Google Analytics Connection
​Primary Logo

Secondary Logo (if applicable)

Brand Mark

Color Palette
​Brand Guide

Business Card Design

Source Files

Social Media Profile Photo Images
You're clear on your brand vision & voice, & target audience
You're willing & have the budget to hire other experts as needed
(ex. copywriter)
You have the time to communicate & provide thoughtful feedback
You're ready to collaborate, invest in your brand, & have fun!
You just came up with the idea & haven't figured out all the pieces
You're in a rush to get this completed asap
You just started out & will be bootstrapping it
You need to put together all of your assets such as copy & photos
Frequently Asked Questions
What platform do you design my website on?
---
I specialize in the Wix platform. Wix is a fully customizable platform with tons of solutions to manage and grow your business such as E-commerce, Bookings, Blogging, Membership Areas and more. I'm also a recognized Wix Parter ( check out my Wix Arena portfolio)
---
How long does the process take?
---
We'll be working together for 6-8 weeks. This is an exclusive partnership as I only work with 3-4 clients per month. I'll guide you the entire way using my signature framework. This ensures a smooth process and allows each of us enough time to complete our tasks. We'll set a launch date together and strategize a successful launch plan.
---
How do I work with you?
---
Easy peasy! Schedule your free consultation and we'll chat about your project! Click here to schedule.
---
How do payments work?
---
50% of the total estimate is due before we begin the project, and is non-refundable. This reserves your start date on my calendar.
---
Will I be able to edit my website myself?
---
Yes! Once the website is complete you'll receive a training video equipping you to make any edits or changes to your site. I promise, even if you're not tech savvy, you'll be able to edit your site.
---
What do I need to have ready before we start?
---
You'll need to provide me with: • Copy for the site (written words that go on each page) • Professional High-Resolution photos of you, your brand/product • Logo (if you already have one) If you don't already have these items, not to worry! Copywriting and image sourcing can be added onto your package at an additional cost. We can discuss these items during your consultation call :)
---
What is SEO? Is it included?
---
SEO stands for Search Engine Optimization. Search Engine Optimization is how you can increase traffic to your website. Ideally, organic traffic. This is how you show up in search results on Google. SEO is included in your package, here is what I provide: - Keyword Research - Meta Titles & Descriptions - Alt. Text - Google Analytics connection and setup - Sitemap submission
---
Will my website be viewable on mobile phones?
---
Yes! Mobile Design is included in your package. This allows your website to be viewed and accessed easily on mobile phones.
---
Do you charge a maintenance fee?
---
Nope! You'll have no ongoing maintenance costs. However, if you'd like me to maintain your website on a regular basis I can certainly do that. We can discuss this toward the end of your project. *The only fees you'll be responsible for are your Wix Premium Plan and any other Wix or third party apps/features you've subscribed to.
---
What's the difference between the logos?
---
Primary Logo This is your primary logo you'll use most often. Here is an example: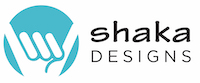 Secondary Logo This is a different layout of your logo that can be used in other formats/applications. A secondary logo is not always necessary. Here is an example:
Brand Mark This is the pictoral logo or "icon" of your brand. Here is an example:
---
---